For the upcoming home buying season there are several changes to mortgage underwriting guidelines that will affect the selling season.

I think the most major change upcoming is that most major lenders are going to a 620 minimum FICO score. FHA doesn't have a minimum score in the underwriting guidelines but lenders can be restricted from selling their FHA loans if their default rates are too high (more about the recent trends of FHA defaults here). Since FHA is "it" for subprime loans right now nobody wants to lose access to that market so the lenders are putting their overlays on the lending guidelines to improve performance of their book. Not all lenders are at 620 right now but major players like Wells Fargo, Taylor Bean & Whitaker and Countrywide have announced the change. It is expected that most other lenders will be adopting this guideline as well.

Here is the national FICO distribution so you can get a feel for the number of people affected: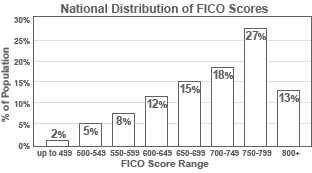 The loan limits for "Conventional Jumbo" are going back up to $729,750 for Los Angeles and Ventura Counties. But as we saw from the earlier LTV charts, their effect on the market was marginal and promises to be even less effective this next year because some major mortgage insurance companies have stopped underwriting conforming jumbo loans and many others only giving insurance for conforming jumbo at 85% LTV.